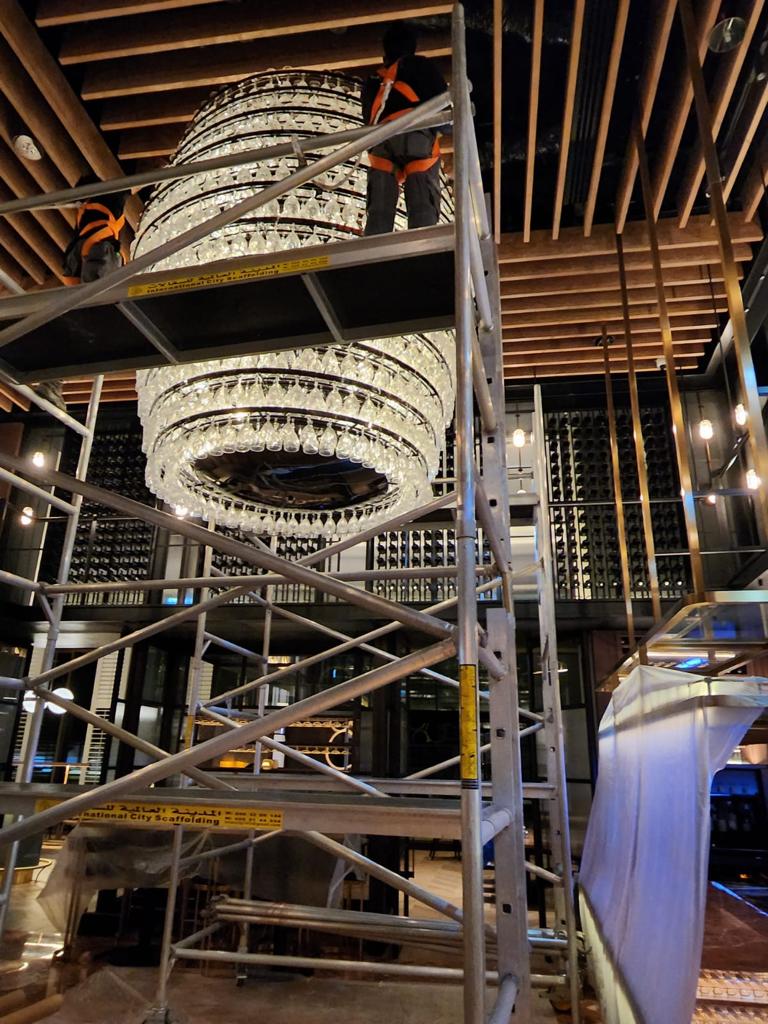 Read Time:
4 Minute, 14 Second
Chandeliers have been a symbol of luxury and elegance for centuries, adorning the grandest of palaces and the most opulent of homes. These exquisite light fixtures not only illuminate a space but also serve as stunning pieces of art. To ensure your chandelier exudes its full splendor, proper placement is key. A well-placed chandelier can transform a room, providing the ideal balance between functionality and aesthetics. If you're considering chandelier installation, it's crucial to adhere to height guidelines to achieve the perfect placement.
The Importance of Correct Chandelier Height
The chandelier's height can significantly impact the overall look and feel of a room. A chandelier that's hung too high or too low may not achieve its intended purpose. The key is to strike a balance, where the chandelier both provides adequate illumination and becomes a focal point in the room. To achieve this, you should consider factors such as the room's size, ceiling height, and the chandelier's design.
Determining the Right Height
Room Size: The size of the room is a primary consideration when determining the chandelier's height. In a larger room, the chandelier can hang lower, drawing the eye upward and creating a sense of grandeur. For rooms with lower ceilings or more modest dimensions, a higher placement is advisable to avoid the chandelier overpowering the space.
Ceiling Height: Ceiling height plays a vital role in determining the chandelier's ideal placement. In rooms with higher ceilings, you have the luxury of hanging the chandelier lower to make a striking statement. However, if your ceiling is lower, your chandelier should be hung higher to prevent it from obstructing the line of sight and creating a cramped feeling.
Chandelier Design: The design of the chandelier itself matters too. Some chandeliers are best appreciated when viewed from below, showcasing intricate details and enhancing their beauty. Others are designed to be appreciated from all angles. For chandeliers that are meant to be seen from below, hanging them lower is recommended. For more versatile designs, you can follow the general guidelines but may have some flexibility.
General Guidelines for Chandelier Height
To help you get started on your chandelier installation, here are some general guidelines for chandelier height:
In rooms with 8-foot ceilings, a chandelier should typically be hung about 30 to 34 inches above the table.
For rooms with higher ceilings, add 3 inches for every additional foot of ceiling height. For example, in a room with a 10-foot ceiling, the chandelier should be hung around 36 to 40 inches above the table.
In rooms with exceptionally high ceilings, it's advisable to consult with a professional chandelier installation service. These experts have the experience and equipment to handle chandeliers in rooms with extremely tall ceilings, ensuring both safety and aesthetics.
For entryways or foyers with tall ceilings, chandeliers can often be hung lower to create a welcoming and impressive entrance.
Professional Chandelier Installation
Installing a chandelier isn't always a simple task. It requires precise measurements, secure anchoring, and a keen eye for design. Hiring a professional chandelier installation service can ensure that your chandelier is placed at the perfect height, enhancing the beauty of your space.
A professional chandelier installation service not only ensures that your chandelier is hung at the ideal height but also takes care of the electrical work, ensuring that the fixture is safely connected to your home's electrical system. They will also consider the weight of the chandelier and use appropriate anchoring methods to prevent accidents or damage.
Moreover, these experts have the knowledge and experience to handle chandeliers of various designs and sizes. Whether you have a delicate crystal chandelier or a massive wrought-iron fixture, they can ensure that it is securely installed and positioned correctly.
Art Installation and Chandelier Cleaning Service
Once your chandelier is installed, you may also want to consider art installation to complement the new focal point of your room. Artwork can enhance the overall aesthetic of your space and harmonize with the chandelier's design and placement. Whether you're looking for classic paintings, contemporary pieces, or unique sculptures, professional art installation services can help you choose the right artworks and display them in the most flattering way.
In addition to art installation, another crucial aspect of chandelier maintenance is regular cleaning. Chandeliers are intricate fixtures that can accumulate dust and dirt over time, diminishing their brilliance. A chandelier cleaning service can ensure that your chandelier remains a stunning centerpiece. They have the expertise to clean your chandelier safely and thoroughly, preserving its beauty and functionality.
In conclusion, chandelier height guidelines are essential for achieving the perfect placement of this exquisite light fixture. The proper placement not only enhances the aesthetic appeal of your space but also ensures that the chandelier serves its functional purpose effectively. When in doubt, consult with a professional chandelier installation service to ensure that your chandelier is hung at the right height and in a manner that complements your room's overall design. Additionally, consider art installation and chandelier cleaning services to complete the transformation of your space into a true work of art.