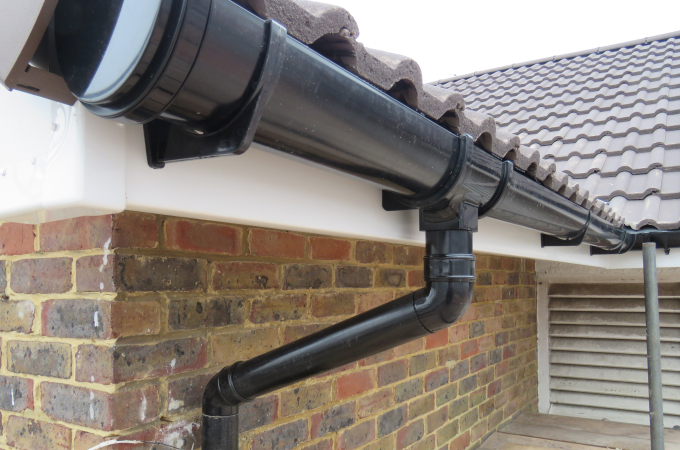 Read Time:
3 Minute, 23 Second
Gutters play an important role in protecting homes from water damage. But which style is better: square or round style gutters?
Specialists in plastic drainage solutions BP Plastics guide us through the ins and outs of guttering and the differences between round and square style gutters.
What is guttering?
Part of the roof protection system, guttering is the small trays below the ends of your roofing. These troughs come in different materials, sizes and styles depending on your needs.
What do gutters do?
Guttering collects and diverts rainwater away from your home. Gutters catch water draining off the roof and channel it through a downspout (also known as a roof drainpipe).
Downspouts are vertically connected to the gutter and disperse the rainwater downwards into a grid connected to the main sewer line.
Why is guttering important?
Without guttering, rainwater would just run off the roof and down the outside walls of our homes. 
Over time, this excess water can erode brick and stone, eventually causing structural problems.
If the water was allowed to build up on the ground, it could potentially seep into a home's foundations, which in extreme cases could also cause structural issues, as well as interfere with electrical systems.
In Britain, it costs £8,500 on average for house foundation repairs – a cost easily avoided by installing the correct guttering.
Guttering directs this water away from our homes and into the main drains.
What types of guttering are there?
Most reputable suppliers stock gutters in a variety of styles, sizes, and materials, so there's guttering for every roof style and home aesthetic.
Two of the most popular types of gutters are square or round style.
Square style gutters
Distinguishable by their rectangular shape, square style gutters are a contemporary and stylish guttering type.
Capable of holding significant volumes of water due to their vertical edges, square troughs are perfect for those in areas that experience a high level of rainfall.
However, this can lead to blockages if debris builds up in the frame. But not to worry, gutter guards that prevent debris from entering the trough can be installed.
With square style gutters, there's a fantastic choice of colours and materials to choose from. White, black, brown, and grey are all incredibly popular choices.
This guttering is usually made from PVC, cast iron or steel. Most older houses have gutters made from cast iron, which is sturdy and aesthetically pleasing.
However, it may need maintenance or replacing if it begins to rust. Plastic square-style gutters are most popular due to their affordability and resistance to corrosion.
114mm is the standard sizing for square style guttering in the UK. However, calculate the pitch of your roof to determine if this is the size you'll need.
Round style
Also known as half-round gutters, round style guttering has a smooth, curved frame that is visually appealing and extremely effective in carrying smaller volumes of rainwater.
This is due to round style gutters boasting a greater diameter and smooth curve unlike other types – any debris or leaves are less likely to build up and cause blockages.
Just like square style, round-style guttering is available in different colours, such as white, grey, black, and brown, to match your desired decor.
Although PVC is the most popular option as it resists corrosion and is easy to install, other materials include steel and cast iron.
Typically, steel and cast iron are considered to be more durable.
But, as they're metal, they're more expensive and susceptible to corrosion over time.
The most common diameter measurements for round style gutters are 112mm.
Which is best for me?
Your home location could sway your mind on whether to opt for round or square-style guttering.
Remember, square style gutters are ever so slightly better in areas where rainfall is high. But round style guttering is less prone to blockages and is more suited to dryer areas.
Regardless, both effectively channel rainwater away from our homes and appearance usually determines which gutter type is best for you.