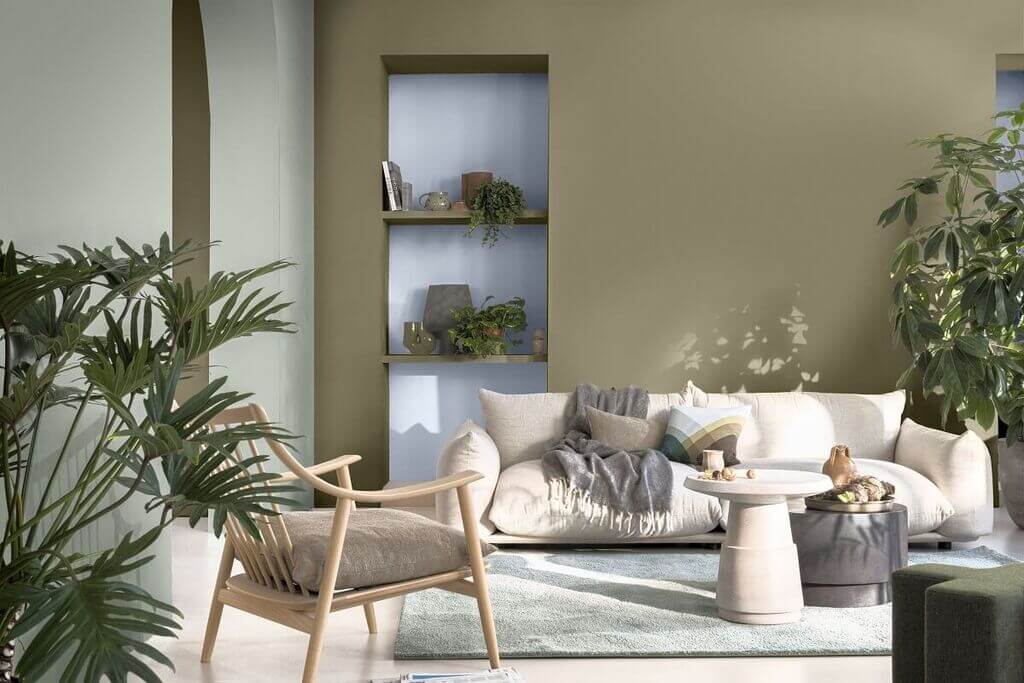 Read Time:
3 Minute, 23 Second
It's the new year and that means it's time to start thinking of ways to refresh your living room. It can be easy to get bogged down in the same old furniture and decor, so why not try something new this year?
Starting with small changes is a great way to help breathe new life into your living space without too much effort or expense. In this article, we look at 10 creative ways to refresh your living room in 2023, including swapping out small accessories, painting walls and purchasing new furniture.
Here are 10 creative ways to refresh your living room in 2023:
Paint the walls

– Adding a new color to an old space can instantly make it look and feel more modern. Opt for a bold color like navy blue or emerald green, or keep it simple with a classic white shade. You can also add a bold pattern to one wall for an eye-catching feature.

Add sectionals

–

Sectionals

are a great way to add seating while not taking up too much floor space. They provide a comfortable and cozy spot for guests, but can easily be moved around when needed. The sectional shapes and sizes are endless, so you can pick one that perfectly fits the size of your living room.

Change up the lighting

– Brighten up a room with new light fixtures or lamps. Replacing pendant lights will give your room a more polished look while adding ceiling spotlights can make dark corners feel more inviting. Floor lamps are also a great way to add height and personality to the room.

Replace small furniture pieces

– Changing out your end tables, coffee table and other small furniture pieces can make a huge difference in a room's look. Opt for furniture with unique shapes or design elements that draw the eye and make a statement.

Bring in plants

–

Houseplants

are a great way to instantly add life and color to your living room. Consider adding easy-to-care-for varieties like succulents or snake plants that don't need too much sunlight or water. Place them on shelves, side tables, and other surfaces for an instant refresh.

Hang new artwork

– Nothing creates a mood like the right piece of art hung in the right place. Choose pieces that reflect your personality or go for something abstract that sparks conversation. Have fun with it and swap out pieces as often as you'd like! There are a variety of affordable options available to choose from.

Redecorate the mantel

– The mantel is often overlooked but it's a great spot to show off your personality and style. Swap out old photo frames and knick-knacks for interesting pieces like clocks, books, vases, or sculptures. You can also hang a piece of art above the mantel to bring attention to it.

Invest in rugs

– Rugs are an easy way to add visual interest and texture to your living room. You can select from a wide variety of colors, materials, and prints that will match any style. Additionally, rugs can help define a space, such as an area for lounging or dining.

Add mirrors

– Mirrors are a great option when you want to add light and depth to your living room. Hang a large mirror above the mantel, or consider placing several smaller ones throughout the room to open up cramped spaces.

Change up the accessories

– This is probably the simplest and most affordable way to refresh your living room. Look for bright throw pillows, colorful art prints, or vases that bring out the colors already in your space. You can also get creative with framing family photos or adding books to shelves for extra texture.
By making a few small changes, you can transform your living room into something new and exciting. With these 10 creative ways to refresh your living room in 2023, you'll be able to create the perfect space that reflects your personal style!
Do you have any other ideas for refreshing your living room in 2023? Let us know in the comments!