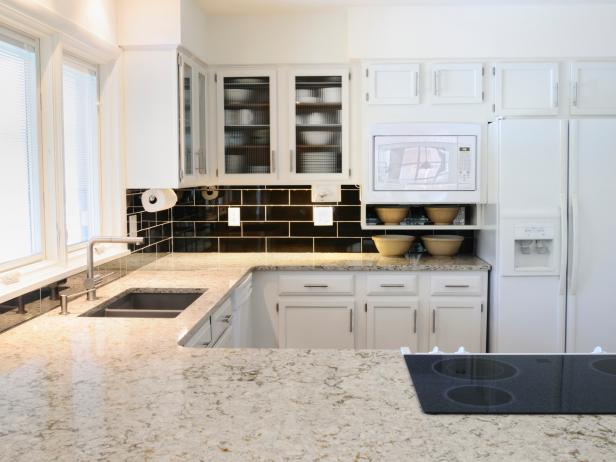 Read Time:
2 Minute, 52 Second
You are planning your kitchen or bath renovation and need inspiration and information regarding your countertop. While you would love to visit The Countertop Shop showroom down the street from Toledo, there just isn't time today. Fortunately, our blog is loaded with all the latest trends, tips, and ideas to help you decide if granite or quartz countertops are right for your Perrysburg area home.
How to Avoid the All-White or Gray Kitchen Fad with Pops of Bright Color
While the home improvement shows all create epic kitchens featuring white marble countertops and white cabinetry, in the real world your life is full of color!
In October, we provided some unique ideas to incorporate pops of bright materials into your contemporary kitchen–starting with the countertops.
"Did you know that some slabs of granite, quartzite, and marble not only feature the usual shades, but they often have inclusions that show off the rainbow?"
Other tips focus on painting the cupboards a rich deep blue or using fresh fruit and flowers to liven up that ocean of gray granite countertop.
Using Countertops to Add Function to Your Work Spaces
Did you know that you can have a custom quartz countertop crafted for your home office or greenhouse?
Discover a wealth of unique and unexpected options for your project in our Top 3 Countertops for Your Home Office blog.
Think about a budget-friendly desk for the kids or an outdoor spot to pot some plants.
Selecting the Perfect Countertop Finish to Complement Your Decor
Does it seem like every kitchen that features a granite countertop captures the glare of overhead lighting? Matte and honed finishes lower the reflective properties of the stone. They are also gaining traction as an option for your custom stone countertops. Learn how we achieve the unique look and what types of spaces embrace the change in our July article.
Opting for a Quartz Countertop Just Might Be the Perfect Solution
Every real estate and home improvement show sings the praises of granite countertops. However, you do have another option that is just as hard and comes in similar colors.
In Creating a Beautiful Bathroom Oasis with Quartz, we discovered that, "You can expect a quartz countertop and quartz wall panels to survive until it is time to remodel the bathroom again, whether that is 10 or 50 years in the future."
While granite may hold onto that elusive cache for resale value, our clients are discovering that the huge variety of available quartz may deliver the custom countertop of their dreams.
Faced with a Chipped or Cracked Custom Countertop? It Can Be Repaired!
Not only do we work hard to match you up with the right countertop for your kitchen or bath, but The Countertop Shop is also here to care for the life of the surface.
We also provide informative maintenance and care articles in our monthly blogs. Learn how you can extend the life of a chipped countertop with a quick visit from our installation technician. After we're done, your aging granite countertop will be ready for another decade of food preparation and service.
Of course, if you can't find the answer in our expansive blog topics, we are always just a phone call away. We are the premier custom countertop company serving our neighbors in the Toledo and Perrysburg, OH area. Click or call to connect with a countertop expert at The Countertop Shop today!