Read Time:
3 Minute, 44 Second
"I got my iPad Pro a couple of days ago. When I connect it to the USB port on my PC it will sync with iTunes and do everything it's meant to. However, at the top of the iPad, it will say "Not Charging" next to the battery icon. It will charge when connected to the mains outlet but not via PC. The USB ports on my PC are 2.0. (My iPhone charges fine when connected to these ports also) Thanks in advance!"
If you can't charge your iPad on PC when connected to your computer, whether it's the latest iPad Pro or an older iPad Air, there's a lot you can try on your own before you go to the Apple retail store for help. iPad not charging on PC may be a USB port problem, or the Lightning or the battery, follow along with the simple tips below and fix the issue in no time!
5 effective methods to fix iPad not charging on PC in Windows 10
1. Switch USB ports on PC
Sometimes, the iPad not charging on PC is actually just the USB ports not working, especially if you're plugging into a computer you've never plugged into before. Therefore, re-plug your iPad into a different USB port and check if the iPad starts to charge. If not, continue trying methods left.
2. Force restart your iPad
If your iPad not charging on PC caused by software conflict, one of the first and easiest things to try is a forced restart. And this is an effective way to fix may small iPad matters, including can't download apps on iPad and the Bluetooth not working on iPad in iOS 11.
Press and hold down the Sleep/Wake and Home button of your iPad until the screen turns off, and keep holding them until the screen turns back on and displays the Apple logo.
3. Change USB cables
If the USB cable is broken or if you are using an incompatible third-party cable, your iPad won't charge when connected to the PC. So, change to a different cable to check the iPad charging works or not. If not, keep reading.
4. Restore with iTunes backup
If the simple tips above can't fix iPad not charging on PC, now, you can try to restore iPad from iTunes backup, which is much safer compared to iCloud restoring. As restoring iPad with iTunes backup is a little complex, we've prepared a topic page for you, go to check how to restore iPhone/iPad with iTunes backup.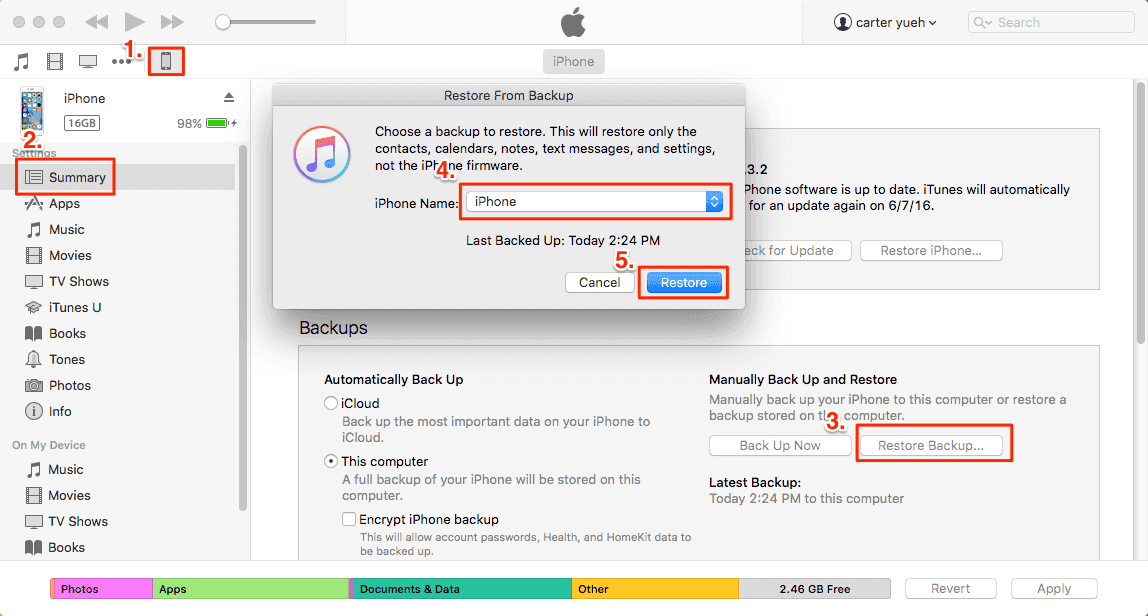 5. Go to Apple Store for help
If iPad not charging on PC has some relations with the hardware problem, such as the Lightning or 30-pin Dock port broken or an issue with iPad battery. You can refer to your AppleCare+ or go to the Apple Store directly to repair your iPad.
Bonus Tips: How to back up iPad data to the computer before iPad fix
No matter you want to restore or repair your iPad to fix the iPad not charging on PC issue, you need to make a backup at the very beginning if you don't want any data loss. Here, we recommend the most reliable and iOS data transfer tool – EaseUS MobiMover to you to export all your iPad data to the computer in one-click. For example, you can transfer all photos from iPad to PC at once, download iPad music to PC and sync iPad videos to computer in Windows 7/8/10.
Visit for Apps on PC
Step 1. Connect your iPad to your computer with a USB cable. Launch EaseUS MobiMover on your computer, and select the "Phone to PC" mode, which helps you export iPad data to the computer. Move your mouse to the right pane and click "Next" to start.
Step 2. MobiMover allows you to transfer all the iPad data to the computer at one time at a fast speed. You can also select Contact, Messages, Note, Photo, Video, or Audio individually. You can change the default destination for exported files on your computer. If you don't set it on your own, MobiMover will download the iPad files to a desktop folder. Click "Transfer" to begin to transfer files from iPad to the computer without a hitch.
Step 3. Wait for a while to let the transfer process finish. Please don't disconnect the iPad while transferring. When the process finishes, you can check the items on your computer.