Read Time:
4 Minute, 48 Second
The Haldi ceremony is an indispensable ritual for a Hindu wedding. According to the ancient scriptures, all the rituals of the wedding hold a special significance, including the Haldi ceremony. Haldi or turmeric is given a special place of honor in Indian households, and its use provides you innumerable benefits.
If you are someone who is about to tie the knot and will be having a Haldi ceremony soon, or your close friend or family member is having it, chances are that you will get to witness this magical event first-hand. We bring a collection of Haldi ceremony quotes in English for you to impress everyone during the occasion.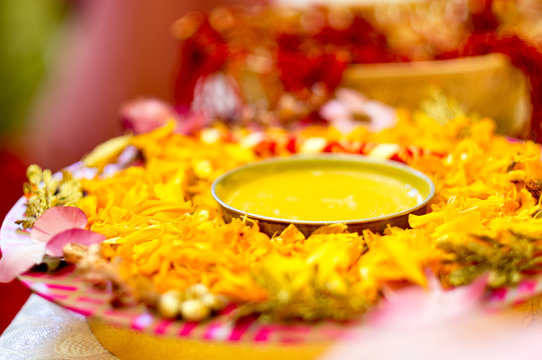 Haldi Ceremony Quotes For Family Members
It is indeed a special feeling when your daughter, son, brother, or sister is the one who is getting married and you want to see them happy with their better half, more than anything else in the world. Here are some of the best Haldi ceremony quotes for your family members when they are about to get hitched with the man or woman of their dreams:
Here's wishing you two a great life together. All the best to a life together packed with amazing fortune and overflowing joy.

May your upcoming years together be spent with lasting joy and happiness. 

May this auspicious day mark your years together. 

I wish you a life together with only unconditional love for each other. 

Let this day be the start of your fairytale that never ends. 

You will never forget this day in your life dear. This day marks the start of your new journey together. 

Long you have waited for your wedding. It's such a joy to be celebrating your wedding with you! 

To see a couple so happy and excited about their special day shows that you two are truly contented and in love with each other. 

May the love and happiness that you feel for each other today shine through the years to come. 

We wish you all the joy, love, and happiness as a couple on this auspicious day as you begin a new life together. 

Your wedding day will come and go, but may your love forever grow. 

You are the cutest couple. Enjoy this beautiful day and celebrate your Haldi ceremony together. May you live happily ever after! 
Haldi Ceremony Quotes For Friends 
As friends, it is our duty to love and support our friends and when one of our friends gets married, we HAVE to be there so that we do not miss out on all the fun and frolic, and of course, on pulling their legs! Here are some best Haldi ceremony quotes for the friends of the bride or the groom: 
We are delighted to be here and share this special day with you both. Wish you two loads of love, joy, and happiness! 

We love you both. A heartfelt thanks for letting us share moments of this wedding with you. May you remain blessed forever. 

Make every day count, make every day special as you two are special; and two special people have decided to spend their life together. 

May the years ahead be filled with everlasting joy and happiness for you two. 

I couldn't be happier for you two. Wish you the happiest marriage ever! 

As Bill and Ted said, "Be excellent to each other." That's the key to a happy marriage. Lots of love to you both! 
Haldi Ceremony Quotes For Guests
If you are part of someone's Haldi ceremony as a guest, here are some must-have quotes that will surely come in handy for you when you need them. Give them a read here: 
I was quite moved to see this huge crowd who attended the Haldi ceremony in the middle of the town. It feels wonderful to be a part of this! 

This is the most beautiful day for the most beautiful couple. 

This couple just proved that happily ever after does exist. 

I would like to raise a toast to your happy and successful Haldi. 

You are my favorite couple in the world! Your marriage is the perfect example of love, care, and understanding. Happy Haldi Day to you two! 

Congratulations on the occasion of your joyous Haldi! May you have all the joy, success, and happiness in the world. 
Funny Haldi Ceremony Quotes 
There are some people in families and friend circles for whom tickling the funny bone comes naturally, and these people are pros at cracking a joke or two and making the overall atmosphere a less tense and more carefree one. Be it a relative or a guest, if you have it in you, you will certainly be making use of a few of the following hilarious Haldi ceremony quotes to make everyone around you giggle: 
Came for the couple, stayed for the food! 

All you need is love, and of course, an open bar. 

You can find me on the dance floor. 

Here is our marriage advice: Love, honor, and… do not forget to wash the dishes. 

For better or for worse, you two have decided to spend your lives together, in each other's company. So better start tolerating each other with this Haldi ceremony! 

Thanks for inviting us to eat and drink while the two of you get painted yellow. Congrats! 
Conclusion
The traditional Indian Haldi celebration is filled with great pomp and grandeur, amazing dance, music, and celebrations. The Haldi ceremony for the bride as well as the groom is like a prelude to the marriage that follows. With the quotes that we have provided, you will surely have the best Haldi of your life, making memories along the way and enjoying the ceremony to the fullest.