Read Time:
4 Minute, 48 Second
Date nights aren't as romantic as they used to be, as most couples either hit their favorite bar or stay at home doing nothing. While such date nights can be romantic and intimate, especially in established relationships, they may not always keep the love fire going.
To keep the spark alive, the two of you should venture out into the world whenever you can and try new experiences together. And who says a date has to be only at night? Why not plan an entire day full of exciting activities that help you get to know each other better and have fun?
That's what we had in mind when creating this date plan. If both you and your partner are CBD enthusiasts, here are some ideas for planning your perfect date with CBD as a very welcome third wheel.
Get to Know Each Other Better Over CBD-Infused Coffee
https://pixabay.com/photos/people-man-woman-couple-2557408/ 
If you're planning a first date with a special someone, taking them out for a CBD-infused coffee is an excellent way to understand each other better. But even if you've been together for a while, it's still a great way to start your day-long date.
If you're looking for full-spectrum CBD products from high-grade hemp, NuLeaf Naturals might have just what you need.
Organize a Picnic with CBD Edibles
Making a meal together can be both romantic and fun. If you know your way around the kitchen, there's a chance for you to impress your date with your cooking skills!
For your picnic adventure, you can make spring rolls, a chicken salad, lemon brownies, chocolate truffle cookies, some smoothies, and lemonade, and infuse them all with CBD. You can safely add CBD oil to any food or beverage.
If you want to save time, you can buy a variety of CBD edibles. You still have dinner to showcase your cooking skills. And if you're not skilled in the kitchen, buying CBD edibles is an obvious choice.
Go to an Amusement Park for Some Real Fun
https://www.pexels.com/photo/unrecognizable-couple-enjoying-christmas-holidays-on-street-6249735/ 
If you have an opportunity to go to an amusement park, why not take it? If you and your date are adrenaline junkies who love those thrilling rides that get the blood pumping, get the tickets, and set sail for an unforgettable adventure.
Any adrenaline-rush activity is perfect after having a relaxing picnic with full-spectrum CBD edibles.
But it doesn't have to be an amusement park. Pick anything that the two of you find exciting, be it going to a comedy show, heading to a concert, or visiting a museum. It's all about what you and your significant other like to do.
Plan a Romantic Dinner
After all those fun activities during the day, it's a great idea to recharge your batteries with a delicious meal.
You can go to a good restaurant, but a stay-at-home dinner might be more romantic. You can set the mood with scented candles and your favorite music and treat your date with a nice homemade meal.
Planning a dinner at home is another chance for you to make CBD edibles together and get even closer to each other.
Mix Delicious CBD-Infused Drinks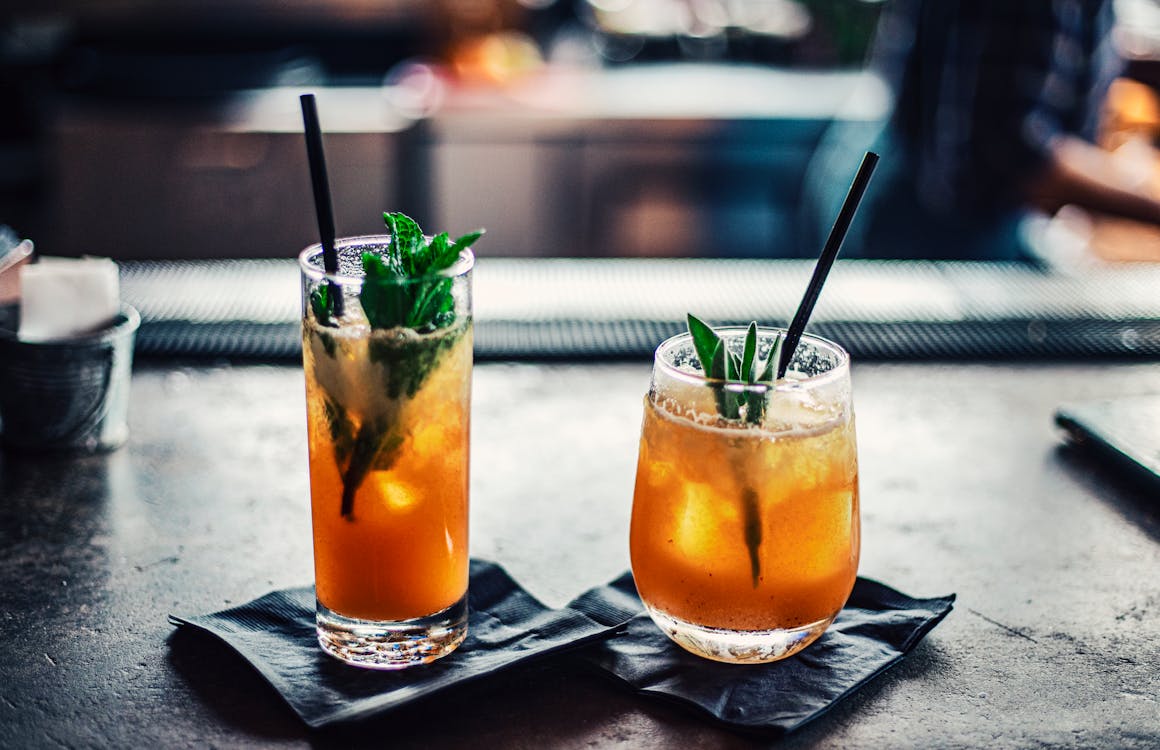 https://www.pexels.com/photo/two-brown-liquid-inside-clear-drinking-glasses-2789328/ 
What's a romantic dinner without a few drinks to wet your whistle? A stay-at-home dinner is a perfect time to hone your mixology skills and prepare mouth-watering CBD-infused drinks.
There are tons of recipes online for CBD-infused cocktails and even for adding CBD shots to wine and other beverages. So, head to Google and explore all the delicious options. You might want to try making them before your date to make sure you hit the correct ratio.
Watch a Movie or Play Video Games 
Watching a movie after munching up all the food and drinks at dinner is a fantastic way to relax.
Whether you watch a thriller that keeps you at the edge of the seat, the latest sci-fi movie with non-stop action, an entertaining comedy that makes you laugh to tears, or a romantic movie that brings you closer together, you're bound to have a blast.
If both of you are gamers, then playing an exciting video game is an ideal way to keep the fun of the day going.
End Your Perfect Date with Stargazing

https://www.pexels.com/photo/silhouette-of-two-person-standing-during-nighttime-1567069/ 
If you (or your significant other) are a hopeless romantic, what better way to end your date than by going stargazing? Unless you fall asleep watching that movie, of course.
Get somewhere up high, away from the city lights, where buildings won't obstruct your view, and marvel at the beauty of the stars.
Bring a cozy blanket, any dinner leftovers, such as CBD cookies, and a telescope if you have one. But even good binoculars can give you a nice close-up of the moon.
Did you know there are mobile apps designed for astronomy aficionados? They can help you spot every constellation currently visible in the night sky. Most are free to download, so find one and make your date speechless.
Final Words
Planning a perfect date with CBD doesn't seem so complicated now, does it? It's just like planning any other date, except this one comes with delicious CBD edibles and drinks.
Whichever CBD products you choose for your date, we're confident you'll have a wonderful time if you incorporate at least some of the ideas above.